Concrete Polishing Abbotsford
Message Us
Get In touch below. Ask any question or request a free consultation.
A Perfect Choice for your Business or Home.
Cost effective, Low Maintenance, and Low Impact on the Environment.
Concrete Polishing has grown in popularity over the last number of years. They are often chosen to be the centre piece in many new homes and commercial settings, but that is not the end of their story.
Concrete floors are Green, Durable, and Easy to Maintain, making them a great choice for commercial, industrial and residential locations.
Concrete Polishing has three customary Polished surfaces to choose from.
Cream Polishing
Cream polishing is a process intended to highlight the 'cream' troweled surface of the floor. When completed the floor is smooth, polished and has a mottled look that is very attractive and the choice of many home owners.
Salt & Pepper Polishing
After removing the top thin grey layer of concrete with our polishing equipment, fine grit is revealed. The colour of this grit and sand looks like 'Salt & Pepper' thus the name of the finish. In its appearance this floor will have a more uniform grey look than the other two options. However the end result is an attractive "salt and pepper' look, that has a clean and uniform finish.
Exposed Stone or Terrazzo Polishing 
This process involves grinding through the cream surface to expose the larger stones in the concrete. Once they are revealed the polishing process smooths the floor gradually developing a level of polish. The stones in the floor start to stand out and develop a crisp colour. Many like this finish because its shows the uniqueness and character of the concrete.
Although Concrete Polishing provides a customer with a truly decorative floor, there are many ways to add even more of your own personal touches. Some of these options can include cutting a pattern in the floor or adding a business logo. Colours can also be added using water based or acid based stains.
There are also many benefits to Concrete Polishing. Besides being a very cost effective option, one of the greatest is that Concrete Polishing has a low impact on the environment because no additional materials need to be purchased; such as underlayments, vinyl, carpet, tile or hardwood. In addition, should it ever need to be covered there is no demolition to be done or waste to be thrown out. This has allowed concrete polishing to be labeled a Green and Sustainable flooring solution.
Other benefits to consider when choosing Concrete Polishing are that it is easy to clean and stain resistant. It is also very durable and won't be ruined if there is any water damage due to heavy rains or flooding, unlike tile or hardwood.
True concrete polishing uses different stages of diamond grinding and polishing to develop the final polish on the floor. Densifiers and a penetrating topcoats are used to harden the concrete and give the floor stain resistance floor. It is important to note that true polished concrete does not involve the use off any topical sealer or the use epoxies or urethane to achieve a final polish. Any time one of these topical coatings is applied to the floor it will be less hard and less durable than the polished concrete floor.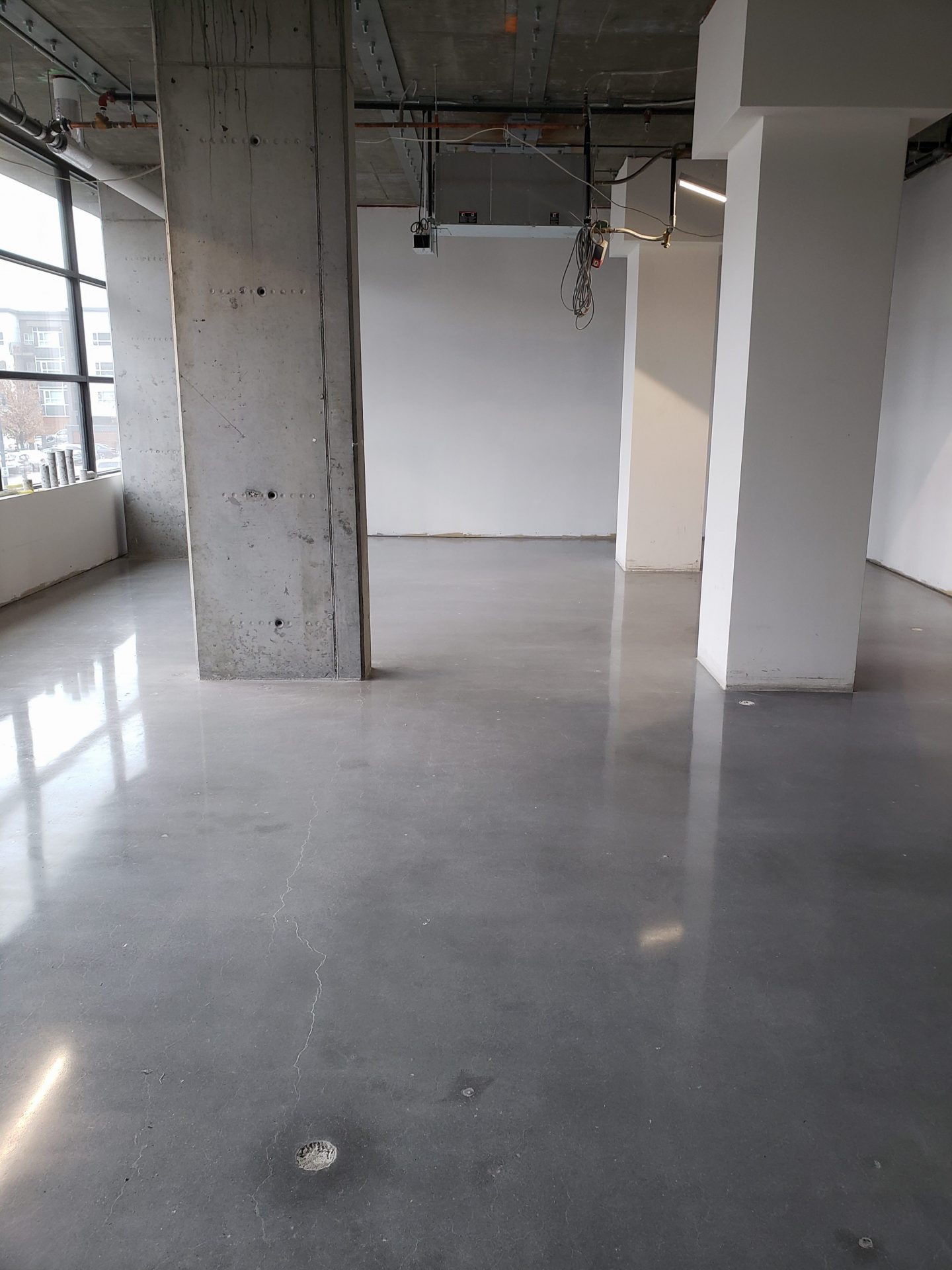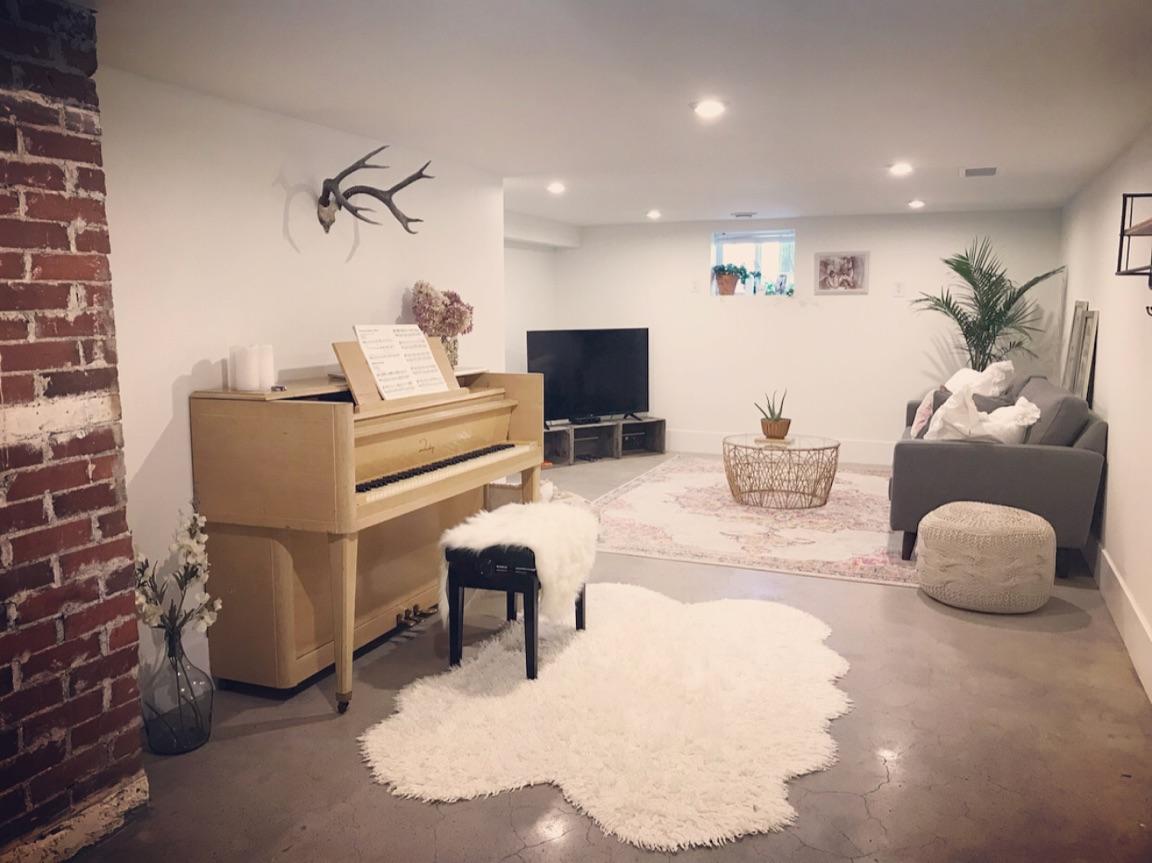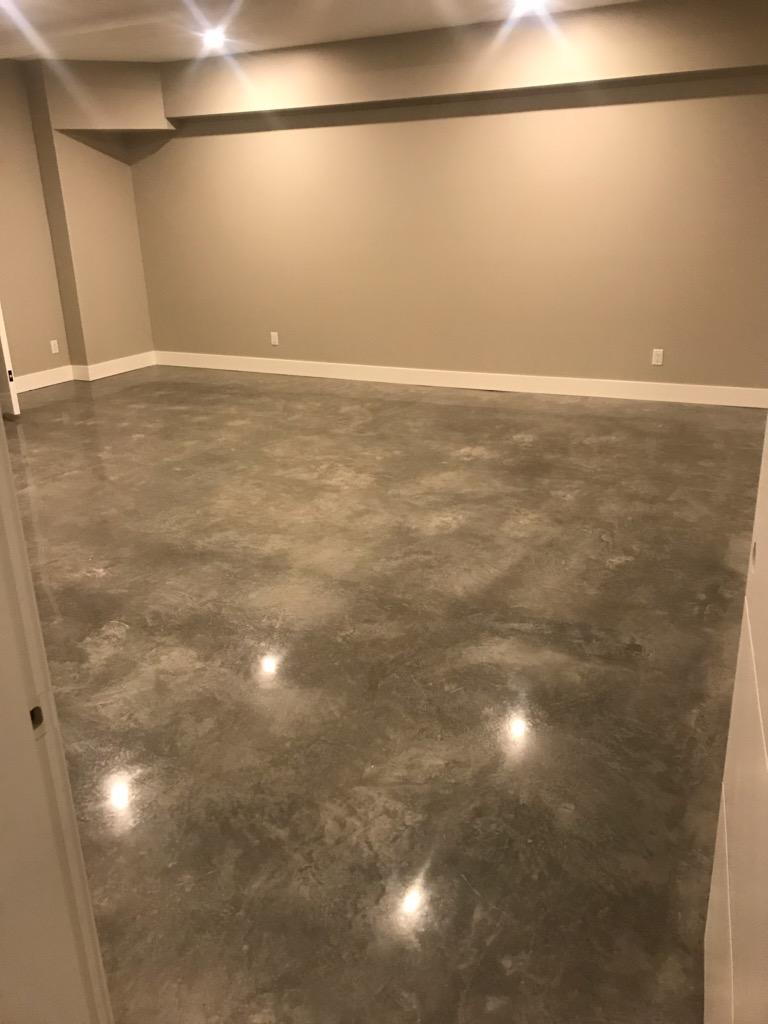 Advantages to Concrete Polishing
HARD WEARING
Concrete is the one of the most durable surfaces to use for flooring. During the polishing process it is treated with a Densifier whose sole purpose is to harden the surface of the concrete. This is important because these floors need to handle heavy traffic from forklifts and carts usually found in warehouses, garages, and restaurants.
All this means that, today, home owners and commercial property owners can benefit from this technology and enjoy the beauty and durability of concrete floors.
CARE AND CLEANING
Care and cleaning concerns are equally important to residential and commercial property owners.
Commercial property owners and managers need to make sure that their cleaning costs are reasonable and effective. This is where polished concrete floors shine. Neutral Detergents and a floor scrubber (using soft white or red pads) will suffice under almost all circumstances.
Home owners will also find cleaning to be a breeze. They can make do with a dust mop to pick up sand and grit on the floor, followed by warm water and a microfiber pad in most cases.
Long term maintenance is also an easy process. The floor can be re-polished, almost always, without having to do any of the heavy grinding that was first done.
ATTRACTIVE
Polished Concrete floors have a natural, organic beauty. There are no grout joints to distract the eye … just a smooth flat uniform appearance to the floor. Its colour and tones make it a perfect palette on which to build a suitable and unique décor for any home or office.
If the natural grey appearance is not suitable, the concrete can be cut to make patterns or stained with a wide variety of colours to create many different designs and colour combinations. It is also possible to incorporate metal, coloured glass and other objects in concrete to add a unique touch.
ENVIRONMENTALLY FRIENDLY
As stated earlier, a smooth Polished Concrete floor is easy to clean using a neutral based detergent and a damp mop, in most cases. It requires no topical finishes such as waxes, epoxies or urethanes and does not trap since there are no grout joint as found on tile floors.
A concrete floor does not sustain dust mites or other allergens, nor does it tolerate the growth of mould making the ideal flooring to replace carpets, and other soft flooring materials.
Our Story
Valley Stonescapes' goal is provide the best service possible. Our goal is to please our customers and leave them with a floor that we are all proud of.
With more than 15 years of experience we are able to handle projects that involve Polishing Concrete Floors and Repairing damaged concrete surfaces. We are also able to re-polish and restore Marble and Granite floors and countertops.
Our services include work in both residential and commercial settings. We are able to fill cracks, overlay old damaged floors and polish them.
We offer our services from Abbotsford to the Fraser Valley.
We take our work seriously and value the trust our customers place in us. We will provide a fair estimate for the work that needs to be done.
Marble and Granite Polishing
"I had a great experience with Valley Stonescapes!! They were quick to get me my quote and started the work right away. Great communication, client service, I would 100 percent hire them for another job. Very pleased with the work they did! Thank you again!!"
Amanda Van Der Lee
"David and Andrew from Valley Stonescapes are fantastic to work with. They worked hard, got it done when they said and are professional and friendly to work with! I'm really happy with the final product and would highly recommend them to anyone looking for concrete work."
Kiah Dundas
Location
West Kelowna, British Columbia
Hours
Monday - Friday:
8AM – 5PM
Email
acoghill@valleystonescapes.ca